Prices of resale homes are on a continued slump for the second month in a row, with the two hardest-hit fronts being the luxury and small-unit segments.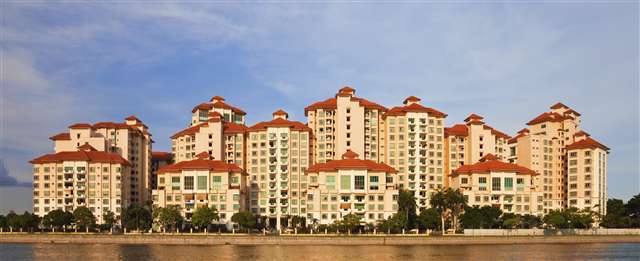 (
Overall private resale prices have fallen for the second month. Image courtesy of Thinkstock.
)
According to National University of Singapore's Institute of Real Estate Studies, which compiled these figures for its monthly Singapore Residential Price Index, January prices for non-landed homes fell 0.4% overall—a more muted drop compared to December's 1% slide.
One housing type on the rise is the non-central home, whose segment increased by 1%. Not surprisingly, high-end homes in the central area took a 1.9% tumble; while the small units (under 506 sq ft) were down 1%.
Industry watchers explained that the falling high-end and small-unit resale prices could be attributed to who their main buyers usually are. Typically, these homes attract more property investors than genuine home seekers.
And with the most recent cooling measures blocking off investors, it is only natural for the two investor-led segments to be penalised more severely than other segments. In particular, central area luxury homes are heavily dependent on foreign demand, which has taken a huge hit with the implementation of the additional buyer's stamp duty in December last year.
"The [extra duty] may deter foreigners who are not in a hurry to purchase a home here to put their decision on hold," explained R'ST Research director Ong Kah Seng to
The Straits Times
.
As for local buyers, he added, "The fear of property re-pricing in response to sales lethargy may mean locals are deferring their decisions to purchase such homes."
On the flipside is the upward price trend of non-central homes. International Property Advisor chief executive Ku Swee Yong suggested that one factor for the price rise is the 'success' of new suburban projects.
"Suburban projects like The Hillier and Watertown have achieved record prices for the sales of their units. These record highs have helped pull up the values of the surrounding properties in the neighbourhood," he told
The Straits Times
.
SLP International head of research Nicholas Mak provided
The Straits Times
another reason: "We assume that homes in the non-central areas are typically bought by owner-occupiers. That's probably why we see more robust resale prices for this segment of the resale market.
"When these owner-occupiers decide on buying a piece of property, they might not be able to wait it out for better market conditions."
Meanwhile, some analysts foresee the softening of luxury homes prices, while others suspect prices to stabilise within Q3 this year. Mak noted, "It might come to a point where resale prices of these homes drop to a certain level, and when that happens, some investors will jump back into the market to snag a bargain."
As for the small-unit segment, observers attribute the fall in prices to the numerous new projects in the market. Ong noted that buyers are less likely to purchase homes from the resale market given the spike in supply of new homes, because of the wider range of housing options and staggered payment plans that the primary market offers.
January's figures also reflect changes made to the basket of properties used in the calculations, which allowed the index to better reflect changes in the completed stock of private non-landed homes.
Where previous months did not take into account the effects of small units on resale prices, this month's figures show that small units constitute 10% of the measured properties—double the figure in December's index.
The new basket also included an additional 113 projects completed since October 2001, but excluded some 100 properties completed since October 1998 that were found in the previous basket.
Latest News:
Related Categories: Market Reviews & Market Outlooks, Private Residential

Tags: ABSD, buyer's stamp duty, Central Area, condominiums, condominiums in Singapore, Foreign buyers, Institute of Real Estate Studies, National University of Singapore, non-landed homes, NUS, private housing prices in Singapore, private housing trends in Singapore, private resale market, resale homes, Singapore high-end apartments, Singapore luxury apartments, Singapore private housing market, Singapore Residential Price Index, small units, SRPI, stamp duty

Bookmark:

Current Rating:
(

0

)
(

0

)

Is this article helpful?
OPINION